Thank you Hylcan Foundation!
A big thank you to the Hylcan Foundation that donated $700 to WICA to purchase cookware for 19 residents of the CAP housing program. Gerben Olsthorrn (left) and Mark Hamilton were two of the lucky recipients.
Started in 1971, The Hylcan Foundation is a multi-generational family Foundation recognized by both large institutions and small community organizations as a well-governed partner offering both funding and strategic advice. The selection criteria focus on improving the quality of life for all those to whom services are provided. They are actively engaged in the continuous assessment of the impact of their decisions.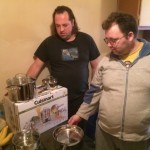 ---
---