Seniors in the West Island, Standing Up for Their Rights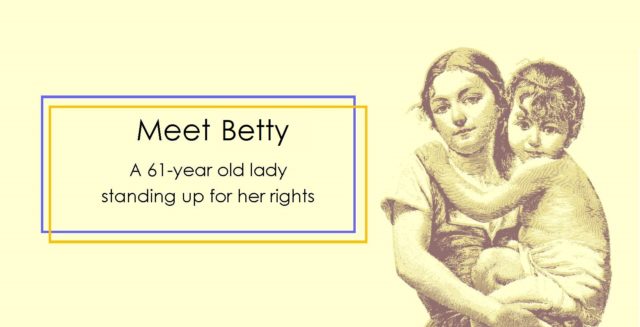 Abuse, isolation and discrimination are common issues that seniors and those living with a handicapping condition or a mental health issue face on a daily basis. At West Island Citizen Advocacy (WICA), we try to improve the quality of life and defend the rights of those who are disadvantaged in the community by supporting them and matching them with competent volunteers. To better understand the perspective of this vulnerable population, WICA interviewed "Betty", a senior living in the West Island.
Betty suffers from depression, bipolar disorder, asthma and morbid obesity.  She has lived in many group homes and regularly used to visit Centre Bienvenue. She currently lives with her adoptive son, Peter, who struggles with his own mental and health related problems. In response to the many challenges she faces, Betty participates in group therapy and makes a point of taking her medication to avoid another nervous breakdown. Despite her efforts to remain proactive, she believes the system is flawed and that the health services that are offered are not always adequate or accessible.
Her current living situation does little to help her mental state as she does not have a positive relationship with her landlord. She describes her living conditions as substandard; damage done to the home by previous tenants has yet to be repaired and mold has crept onto the ceiling. She feels that living in these kinds of conditions puts her at risk due to her asthma and limited mobility.
Betty contacted West Island Citizen Advocacy (WICA) for help with these matters. The Seniors Advocacy program at WICA provides support to the elderly who need help in navigating the social services system, working through government bureaucracy, mediating in family matters and, helping with the sorting out bill payment problems among others. With the help of Nicole, one of WICA's community workers, Betty sent letters to La Regie du Logement stating the many problems that she faced in her own home but despite these efforts, the issues were not resolved and she has decided to move somewhere else by the end of the summer.
In addition to housing issues, Betty explained that she faces discrimination due to her weight. She has been refused transportation more than once. She was told that she would not fit in the car and her son has also faced this same situation.
Nevertheless, Betty remains dedicated to her family. Her son explains, "She is the rock of the family", she is a very welcoming person and always ready to host friends, and that although she has lived more tragedies than the average Canadian will in a lifetime Betty loves to share her stories. She shares her recollections with WICA; from fond memories of spending time with her aunt and uncle to disheartening times where she has had her children removed from her custody.
Her faith and her love for poetry are the driving forces in her life. She is currently writing a book titled "The New Me" where she shares her views on life. She trusts in restitution regardless of her feeling that she has been taken advantage of in numerous ways. She believes it is most important to remember that faith can move mountains. "The key to survival is setting boundaries, she tells WICA, [I try to only surround myself with positive people and positive energy]".
If you can relate to Betty or know someone who does and are looking for help or guidance, WICA's Seniors Liaisons program is hosting an Information Fair for seniors on August 24th from 1-4pm at Pierrefonds East Community Centre. You can always contact us directly at [email protected] or 514-694-5850 for more details.
* Some names and identifying details have been changed to protect the privacy of individuals.
---
---