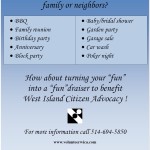 Long-time volunteer and board member for WICA, Ike Partington hosted a garden party to raise money for WICA.
Are you hosting an event? A BBQ, family reunion, birthday party, bridal/baby shower, pool party? Why not turn your fun into a "fun"draiser to benefit WICA.
Call us at 514-694-5850 for more info.