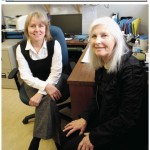 This year marks WICA's 40th anniversary in the community. Forty years of providing much-needed practical and emotional support for the most vulnerable members of the West Island community.
WICA continues to match proteges one-to-one with volunteers who fulfill a number of needs, whether it's breaking isolation through social visits and outings, or enabling a person to retain their independence by accompanying them to appointments or helping with paperwork and documents among many other tasks.
This year also brings with it many changes, exciting but also bittersweet. After more than 20 years as WICA Director Mary Clare Tanguay retired and handed the reins over to Marie Fournier.
WICA welcomes you to the Annual General Meeting! Come and celebrate 40 years of community work with our members, volunteers, proteges, staff and board!