Jane* is a 103-years-old and is not short of humour or anecdotes.
"I play Scrabble, but I ain't that smart!" she joked.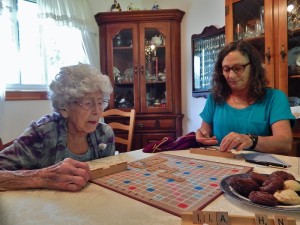 Ann*, her volunteer from West Island Citizen Advocacy (WICA) laughed it off and reminded Jane of her 310-point Scrabble game.
Ann has been volunteering for the past three years at WICA and was matched with Jane to visit a couple of times a month to provide some social support. At her grand old age, Jane makes a challenging Scrabble player of herself!
Jane has lived through a century of wars and of industrialization. She has gone back and forth between Canada and England, between the countryside and the city. When Jane first settled in Quebec, there were cows only a few yards away from her backyard. Today, her West Island neighborhood is vastly different.
Even nowadays, Jane maintains tight relationships through letters she writes every other day.
"I try to keep in touch with people, you know," she said, to which Ann replied, "How many cards was it? There were a hundred cards, or something? They were everywhere!"
Jane accredits her good health and longevity to fresh food and fresh air as her childhood was spent on a farm in Alberta.
Jane is fortunate to be well- surrounded and counts on the support of daily visits from the CLSC, daily calls from the city, as well as her dedicated daughter, Denise and her friend Ann.
Ann first heard about WICA through an ad in the newspaper and she seized the opportunity to get involved in volunteering. In the end, she said she got way more than what she bargained for: a friend.
"I don't see it like I'm volunteering. I get more out of this than you do!" she said to Jane.
WICA provides social, emotional and practical support for West Islanders in need. It currently supports more than 400 matches between competent volunteers and those who need help such as; the intellectually or physically challenged, isolated and lonely seniors, and those experiencing mental health issues. There are currently 200 or so vulnerable West Islanders waiting for a volunteer.
You too can a make a difference in someone's life.
---
*to protect their privacy, WICA did not use their last name.
Virginie Grenier-Deschênes