« Toi qui empruntes
Ce sentier, écoute
Le silence et le vent
Dans les arbres et
Le chant des oiseaux.
Laisse surtout
Parler ton cœur
Tu entendras
Plus grand que toi. »
J.H.
It was a cloudy Wednesday morning in June of 2016, the West Island Citizen Advocacy (WICA) organized an outing to Mont-Rigaud for residents of the Church Apartments Program (CAP).  These programs provide subsidized, semi-supervised housing for 44 adults with mental health problems and or are intellectually challenged.  CAP fosters to the residents' well-being, and so, organizes regular outings during the summer.
Nine CAP residents accompanied by eight WICA staff members did not let the weather dampened the mood that day.  They packed-up their cars with lunch and umbrellas, and were off towards their Mont-Rigaud adventure.  This simple organized get-a-way had a large impact on the CAP residents. It broke their daily routine and un-sheltered them from isolation.  It is a social experience for all members to enjoy.
"Outings are more important than pills." said Bob, one of the CAP residents living with schizophrenia.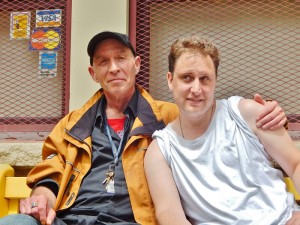 Bob, to the left, and his good friend Alex, to the right.
As part of the program, residents benefit from a weekly visit from a community worker to provide social or emotional support as needed.  However, due to limited resources, outings remain insufficient according to the residents.
We asked where the residents would ideally like to go, and they responded with:  A nice walk in the forest, a day at the museum, and a picnic in the park.  These small activities provide the residents with much joy.  If you have some free time and a drivers licenses our residents would greatly appreciate your volunteering services.
You could even learn some fun facts or catch a glimpse of an inspiring quote, such as the one written above which was at the gateway of their Mont-Rigaud adventure. It encompasses the Spirit of WICA by listening to your heart and realizing that you hold the power within to give back.
To volunteer on such outings, visit People helping People.