Seniors' Advocacy Project
Intervention for crisis situation and defense of rights…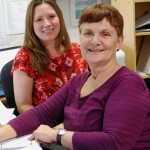 West Island Citizen Advocacy launched its Seniors Advocacy Project in 2009 headed up by Hélène McGregor. Nicole Thévenet-Toth came aboard in 2016 to replace Hélène after her retirement.
The project, funded by the Quebec government, aims to assist and educate seniors who are facing financial, physical, emotional, sexual abuse, neglect or exploitation on the West Island.
The project helps seniors with problems of :
abuse such as – financial, physical, psychological and/or emotional, neglect or sexual
social crises such as – evictions, financial, family disagreements
defense of rights – housing, financial/pensions, government agencies, health care
It provides information on senior abuse and defense of rights.  It provides emotional or practical support with staff and/or volunteer advocates.
---
Seniors Liaisons
Agi
ng is inevitable. For some, the golden years are anything but golden.
West Island Citizen Advocacy (WICA) has launched "Seniors Liaisons", an outreach project aimed at providing much-needed practical support to under-served, vulnerable seniors, especially those in multicultural communities isolated by language and societal barriers.
"We have found that there are still many West Island seniors who are falling through the cracks because of social isolation and a limited community network and it's our civic duty to make sure they get the help they need," said Marla Newhook, Director of WICA."
The Seniors Liaisons project is funded through an ITMAV grant through the Ministère de la Famille with the purpose of reaching out to those in need of social intervention on several aspects of their lives, including:
Financial issues
Housing problems
Legal issues
Language barrier
Filling in government forms
Pension applications and issues
Abuse situations
Health and Social Services
Mediation
Emotional support
Accompaniment
Immigration matters
Fraud issues
The Seniors Liaisons project was developed as a valuable extension of Seniors Advocacy to ensure that vulnerable elders facing additional challenges, such as a cultural or language barrier, can resolve their problems before it becomes a crisis. The Seniors Liaisons team will be working closely with West Island municipalities, other organizations as well as the cultural community to create connections with seniors in need.
"Imagine not being able to communicate with your neighbours, not being able to access social services or navigate the health care network. That's what our seniors are facing, and many of them are doing it alone without family or community support," said Newhook.